Why Every Public Company
Needs an IR Website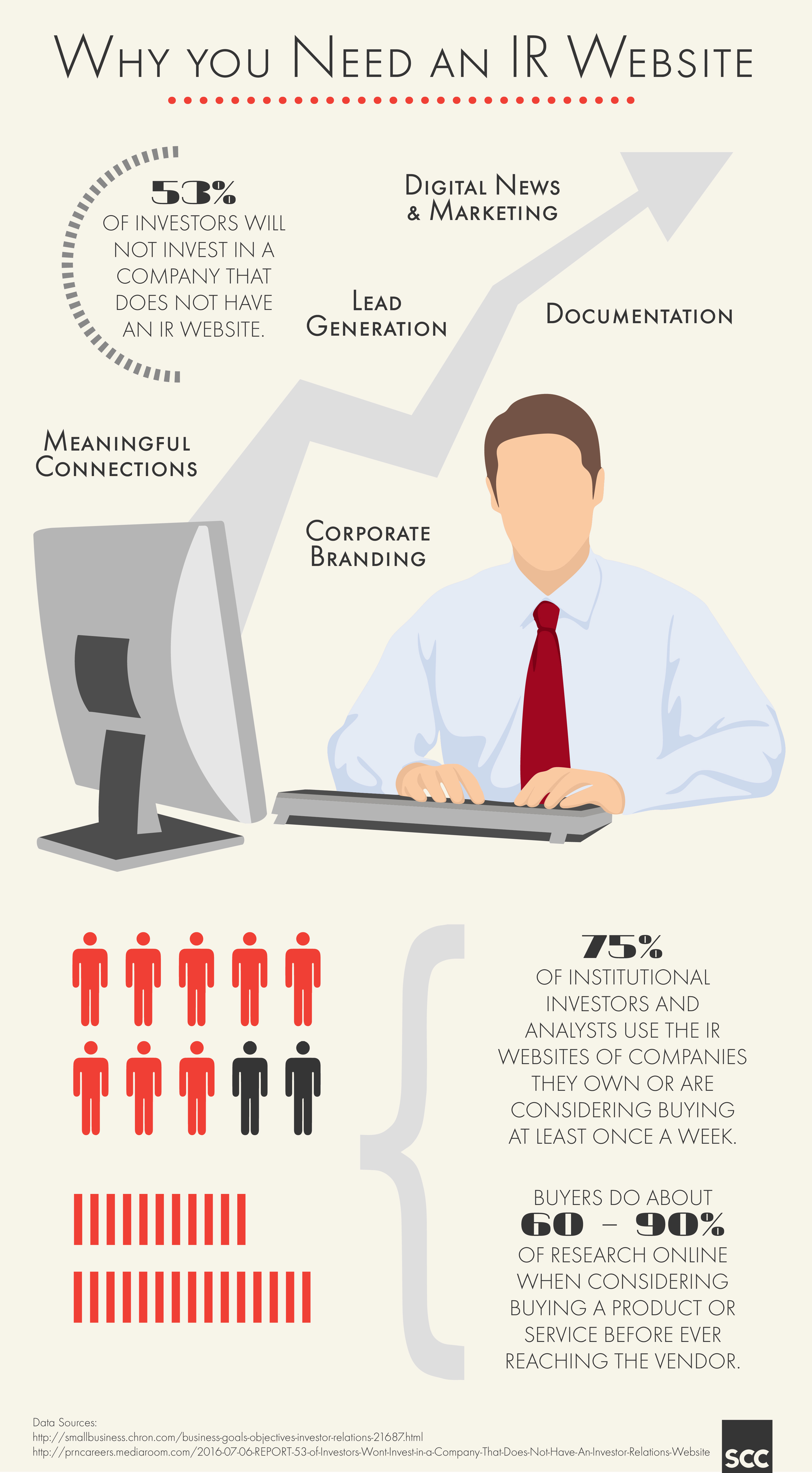 Every public company should have an IR website with the intention of building research and goal driven campaigns that communicate effectively to deliver value to clients and investor networks. Surveys have shown that,"75% of institutional investors and analysts use the IR websites of companies they own or are considering buying at least once a week." An effective IR website helps generate measurable interest, build an active shareholder base and establish share liquidity. This is achieved through the effective delivery and execution of targeted investor communications encompassed by strong design, website practices and content that differentiates your company from competitors. Here are the top 5 business goals and objectives of an IR website:
1. Meaningful Connections
The goal of your investor relations website is to coordinate relevant, targeted communications to shareholders to inform about changes in leadership, upcoming products, new hires, latest corporate initiatives and more. Generating regular communication establishes better relationships between the company and investors, building meaningful emotional connections, reinforcing appreciation, commitment and an understanding of the full value of ones investment.
2. Corporate Branding
An IR website is the most important source of information for investors. You can be sure that once a stock starts trading, investors and analysts will be browsing your IR website, as Bradley H. Smith, Director of Marketing, Investor Relations and Regulatory Compliance Services at PR Newswire & Vintage stated, "an investor relations website verifies your company's financial brand: shareholders and potential investors expect public companies to have one. It demonstrates your corporate transparency as well as markets your company's professionalism."
A report by PRNewswire found that, "more than 53% of investors will not invest in a company that doesn't have an investor relations website." Would you? Bradley H. Smith, Director of Marketing, Investor Relations and Regulatory Compliance Services at PR Newswire & Vintage said, "It is especially important that emerging growth companies understand this. Without an IR Room, you're proactively turning away over one-half of your potential."
3. Lead Generation
A strong digital presence is crucial for business and lead generation, as the traditional buying process has changed considerably. Today's self-directed buyers do anywhere from 60 to 90% of their own research online to learn about a product or service before reaching vendors. In order to adjust to this shift in the buying process, businesses should create a solid lead generation strategy through digital channels to build trust and capture interests' of buyers before they contact sales. Encourage and track shareholder engagement to continue building your database and relationships (arrange outreach to the most valuable leads) as well as see how investors use your site.
4. Digital Media News Distribution & Marketing
The SEC (U.S. Securities and Exchange Commission) has embraced the Internet as a primary means of investor communication. Using touch point programs such as: pay-per- click and/or social campaigns help attract investors. Ensure your company is reaching the right people at the right time through strategic timely interactions that include: email marketing, telephone outreach, social media channels or face-to- face meetings. The goal is to build credibility and momentum effectively with news coverage and brokerage reports produced through third party outlets.
5. Documentation
Your investor relations website must fulfill its documentation requirements to provide documents that are easily accessible such as quarterly earnings reports to investors that are a matter of public record. Staying on top of what works and what doesn't with regular in-depth reports and feedback will ensure a positive return on your investment. One can build market value through strategic consultation, financial marketing, brand positioning and directing investor communications on their website.
Sources:
kincommunications.com irblog.prnewswire.com smallbusiness.chron.com prncareers.mediaroom.com marketo.com reportwatch.net prnewswire.com