5 Best Practices

to Improve Your Investor Relations Website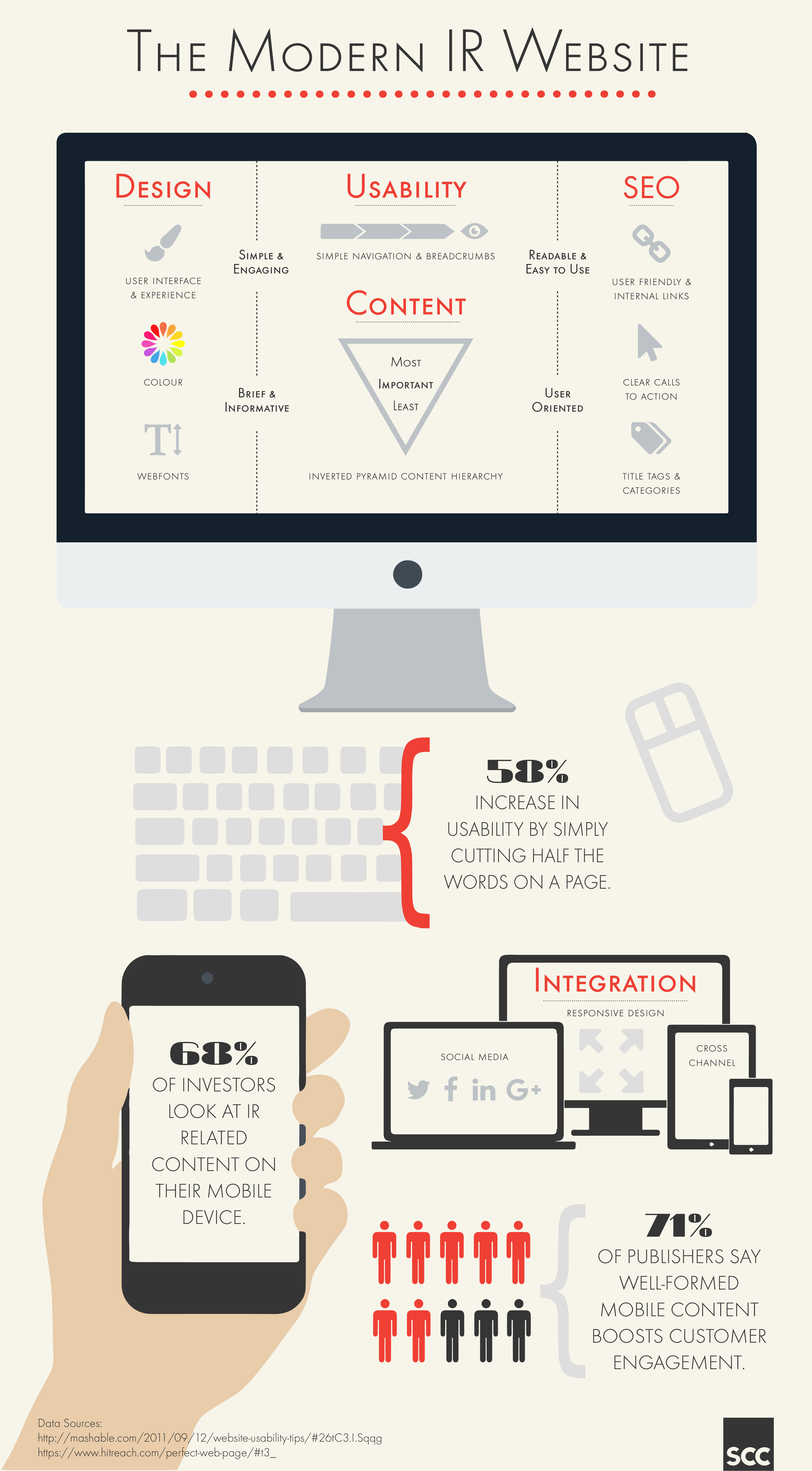 There are many factors that contribute to an optimized investor relations website that functions effectively to compete in today's new media environment. It is crucial to build upon a marketing led plan (understanding the market, clients, potential users, and competitive environment). This involves the technical, social, usability and web design teams to implement modern design and content, usability and conversion, search and social media elements, with website best practices in mind to reflect the brand while meeting business objectives. Here's how:
1. Design: Layout and Typography
The elements and principles of design such as colour and space as well as layout and typography give the user the overall visual look and feel of your IR website. When designing, always ensure that it reflects what your users want and that design and content are complementary. Web fonts (such as Fontdeck or Font.com) are used to add a modern feel with typography for an aesthetically pleasing and functional design. Aim for a simple engaging user interface with modern colours and content (copy, images and videos) that reflects company goals.
2. Content and Readability: Concise with Headings, Bullets, and Visuals
Web users often have a very short attention span and tend to skim webpages to find the information that they're looking for, so it's important to reduce the word count, get to the point quickly, and use understandable language. According to a usability study conducted by Jakob Nielsen, "there was a 58% increase in usability by simply cutting half the words on the page." To help readers scan pages quickly front-load keywords in titles, headings and using an inverted pyramid model with the most important information first, followed by supporting details and then related info.
Content Hierarchy: Headline and navigation followed by content arranged from most to least important

Copy: Get to the point as quickly as possible, cut out unnecessary information and use understandable words and phrases

Taxonomy: Organize data into pages, categories and subcategories (sometimes displayed in a site map, which should be a key component of the marketing plan)

Content Rich Pages: Use videos and images as well as headings and bullets to break up content

User-friendly hyperlinks: Title links to give additional context and let users know what to expect when they click (rather than "click here" replace with the name of the link such as, "Annual Report")
3. Usability: Accessibility and Responsiveness
According to searchenginewatch.com, "67% of mobile users will leave a website if they become frustrated with the site's navigation, and 72% will exit out if the site loads too slowly." There are a few important considerations when it comes to accessibility, usability and responsiveness. Firstly, consider how investors navigate and find documents they're looking for – ease of use. Think about what they see first and how they're viewing (types of devices and browsers). It is important to test your website in different browsers and devices to make sure that it displays correctly and responds to different screen sizes.
Technology and platform: Consider viewing experiences on different devices and browsers

Navigation: Breadcrumbs

User Orientation: Readability and flow

Open Graph Protocol: Gives any webpage the ability to become a rich object that is functional in a social graph such as Facebook
4. SEO: Content Marketing and Technical Site Architecture
According to hubspot.com, "over 10 billion searches are conducted in the U.S. alone every month," so SEO is very important as it helps search engines find your website to drive quality traffic, increase visibility, and improve brand image and credibility amongst such an immense amount of information. Business2community.com found that, "using organic SEO techniques and a pay-per-click campaign together you can expect to receive 25% more clicks and 27% more profit versus using just one or the other." Without SEO optimization your site is not visible to your audience but rather lost in the vast sea of the worldwide web.
SEO principles are built into the technical architecture with the influence of marketers, designers, and technical departments to make a website search engine friendly. This is accomplished by a combination of many little details:
URL Structure and Title Tags: Meta title and description to tell searchengines what the page is about

Header Tags: Use heading H1 tags properly and avoid using too many

Image ALT tags: To fill in missing descriptions

Sitemaps (optional): To help search engines index your site

Calls to actions: Main call to action plus secondary CTAs in your anchor text links, rather than "click here" add the name of the link such as "Subscribe to Monthly Updates"

Social Sharing Buttons: Multiple paths to social media to encourage sharing, following and overall reach

Avoid Flash and Splash Menus: Search engines struggle to read content/embedded text
Considering the effort that goes into developing great content it is essential that everything is done to ensure full indexation online using SEO techniques that will increase visitors, search traffic and conversion on your website.
5. Integration: Responsive Cross-Platform User Experience
The integration and usability of a website across multiple platforms is very important, encompassing: responsive design (fast loading time, visual appeal, adjusts to page size), technical CMS systems, SEO and more. A study conducted by the IR App and IR Magazine found that, "83% of investors rely on mobile when it comes to their work and 68% of investors look at IR related content on their mobile device." Fixed and unresponsive web design won't cut it; the web is inherently fluid so a webpage needs to be optimized and made responsive on all devices – especially since majority are viewed on mobile.
Responsive cross channel web design: Displays and responds correctly across different devices and browsers

Fast loading Time: Around two seconds or less

Image compression and optimization

HTML5 & CSS (clean readable code)
Think – user experience and company goals, a simple responsive user interface, modern fonts, colours, and quality content with SEO techniques implemented.
Sources:
zerogravitymarketing.com mashable.com hitreach.com searchenginewatch.com blog.marketo.com imforza.com seonick.net searchenginejournal.com searchenginewatch.com marketingland.com code.tutsplus.com ogp.me blog.kissmetrics.com schema.com experiencedynamics.com